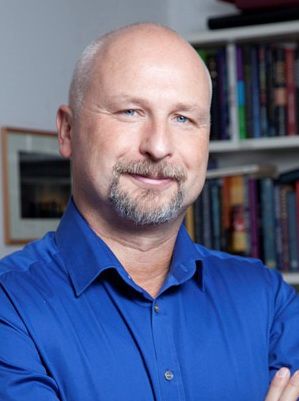 Article submitted by
Öner Döşer, AMA, MAPAI
July 16, 2016
AstroArt School of Astrology, Caddebostan
http://www.onerdoser.com/

Perhaps, this was the most interesting night in the history of our country. We witnessed an important test on democracy and showed it to the whole world. Consequently, military coup attempt has been unsuccessful and many soldiers have been arrested. Many souls passed away unfortunately. God rest the souls and heal those wounded.
In this article, I will mention the astrological indicators of last night's events and I will also benefit from some astrological charts in order to light our way for the coming days.
The events that occurred on the night of July 15th began when the two major bridges in Istanbul that
connect Asia and Europe have been blocked by armed forces between 21:45 and 22:05 (chart1).




In this chart, Aquarius is rising and Saturn, the traditional ruler of Ascendant, is in conjunction with the MC. This position shows that seizing power in the country was attempted. Both Saturn and MC being in conjunction with Antares represent that we are faced with a violent and fanatic attempt. Saturn in retrograde motion represents that those attempts would not proceed as expected, some unexpected conditions would occur and some problems would be experienced in the completion of that mission. Saturn, representing the ones who made this coup attempt, is in square with Jupiter, the ruler of MC tells us the aims of the coup attempters. This shows that there are some difficulties in reaching those aims! Moon in Sagittarius is about to make a conjunction with Saturn first and then a square with Neptune and finally a square with Jupiter; thus Moon will carry its light between the elements of the T-square aspect pattern in mutable signs through some stressful aspects.

All those significators show that those rebellious attempts will not be successful and the conditions will shape differently and more stressfully than expected.
Neptune square MC (aims) shows that the attempters will be unsuccessful and disappointed and they will dissolve. Mars opposition ASC represents military coup attempt or armed and violent conflicts. The applying square between the Sun and Uranus represents revolt, upheaval and unexpected changes in the course of events. Interestingly, all those aspects Neptune/MC square, Mars/ASC square, Sun/Uranus square) will we exact 1 degree later!

How is Turkey's astrology chart affected?
When we examine Turkey's astrology chart together with the coup attempt chart, the most prominent thing we see is that transit Mars is triggering Jupiter in Turkey's astrology chart (chart 2).




Additionally, when we examine those two charts together, we also see that transit Uranus which is active for a while still triggers Mercury and Saturn in Turkey's chart: this means both hidden and open enemies are in charge! Mercury, being the ruler of the 12th house of that chart, represents the hidden enemies whereas Saturn, being the ruler of the 7th house, represents the open enemies. Pluto, transiting in the house of open enemies (7th house) represents that this risk is not a short-termed one.

As Mercury is the ruler of the 4th house, its opposition with transit Uranus represents that some stressful matters in the country may blow up in a sudden and unexpected way. Saturn's (the ruler of the 8th and 9th houses of the chart) partial opposition with transit Uranus indicates that those sudden and unexpected explosive events would be linked with some "foreign countries" or "people who live abroad" (9th house). On the other hand, this also explains the loss of lives and economic losses (as Saturn also rules the 8th house) that we experienced recently.
I will be giving more information on the transit chart and examine it in line with the progressed chart soon.
Now, let's have a look at the Lunar Return chart as Mars, the general significator of the military events and armed forces is also dominant in the Lunar Return chart.

Lunar Return Chart
There are many techniques used in Predictive Astrology like the Solar and Lunar Return charts that inform us periodically. Both for the native charts and the charts of the countries and corporations, Solar Return charts help us predict on annual matters and Lunar Return charts inform us about the monthly developments. Those charts are erected according to the moment when transit Moon reaches the degree in of the Moon in the radix chart.

Below, you may see the Lunar Return chart derived from Turkey's astrology chart for the period between July 3rd and July 30th which help us have an opinion on the possible events and to predict them. (Figure 3)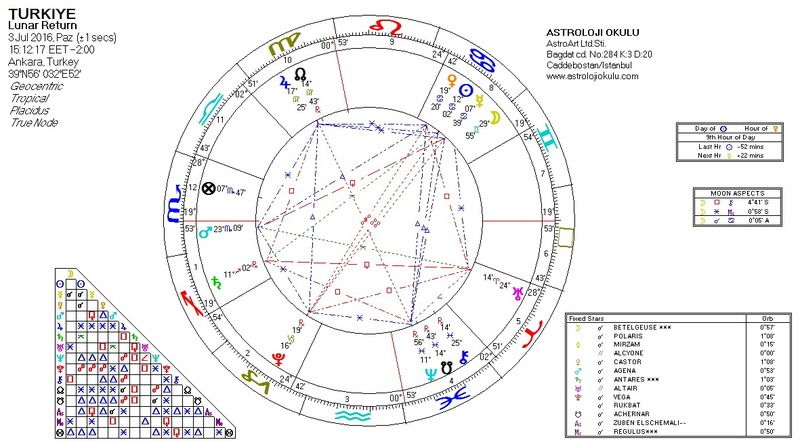 In this Lunar Return chart, which we are in as of July 3rd, Scorpio is rising and Mars is in the 1st house of the chart. As mentioned before, Mars rules action, aggression, soldiers, weapons, violence and coups as well. Seeing Mars in an angular house, especially in the 1st house which is so critical is not that surprising for any astrologers who want to see the dynamics that coup attempts. The 1st house rules the nation and the position of its people. The planets in this house represent what type of situations those people are faced with and what types of events they are closed to. Mars' placement here between July 3rd and July 30th represents that the people will be faced with situations in Martian nature.
The large number of planets placed in the 8th house of this chart represent that the financial matters and payments will be emphasized during this period as well as the dangerous, risky and deadly matters. Unfortunately, many people died and many were injured during last night's events. Although the possible influences of those desperate events on the finances are not the subject of this article, it is not difficult to guess its influences on the parities.
What about our motivations?

When we analyze the event (chart 1) together with the Turkey's natal chart and Secondary Progression chart (chart 4), we see yet more interesting things!




As mentioned before, the most signifying thing in the chart is that transit Mars (action, soldiers, coup, weapons, violence) in 24° Scorpio (in the outer wheel) triggers Jupiter in Turkey's chart (the inner wheel) which is in 24° Scorpio. In this chart Jupiter represents the government, the top level people in the government, the image and the aims of the country(10th house), the security institutions and the security forces (6th houses) being the ruler of MC (the cusp of the 10th house) and the ruler of the 6th house. As Mars triggers Jupiter, aggression in those elements is emphasized. I must add that Jupiter represents high ranking officers and generals.
Yesterday night, Anadolu Agency announced that Hulusi Akar, the chief of Turkish armed forces, and some generals were detained by the commanders of the coup.

As seen in the Secondary Progression chart, progressed Moon is placed in 25°Scorpio at the time of the event. It has triggered Turkey's Jupiter nearly 1 month ago and now it is triggered by Mars and this aspect will be exact after 1 degree (today and tomorrow- 16th & 17th of July). All those triggers emphasize that we are in a very critical and sensitive period.

The sign where the Moon is placed in the Secondary Progression is highly important as it represents our main motivation and emotional state. As seen in the progressed chart progressed Moon is in 25°Scorpio, – where Mars is currently transiting – this means Moon has been traveling in Scorpio for 25 degrees (nearly 2 years) and will stay in this sign for 5 more degrees (nearly for 5 months). When Moon is in Scorpio in progressed charts, we feel an urge for a strong purification. We may be emotionally outworn and feel a necessity to fight against difficulties. The ideal result of this position is to grow stronger through the challenges. Yes, we are in a challenging and battering period; on the other hand, we always become stronger after such challenging periods being a county that has Sun, Venus and Jupiter together.

What is Next?
Moon in our progressed chart will finish its tour in Scorpio and enter Sagittarius as of November 3rd 2016. When the Moon is in Sagittarius in progressed charts, hope and optimism towards future increase, our perspective widens and we gain vision. Of course, the house where Sagittarius corresponds to is important. In Turkey's astrology chart, Sagittarius falls into the 6th house of the chart which is related with security and service institutions, security forces and officers and the daily routine. We may conclude that those issues will have a larger place within our daily lives.

So, when the Moon enters Sagittarius (Dec 2016) will this challenging period end? The answer is no, as progressed Mars is also proceeding where the Moon is (chart 5). The challenges will not be over; they may even expand to wider areas of our daily lives.

Chart progressed for May 2017 when Progressed Moon conjuncts Progressed Mars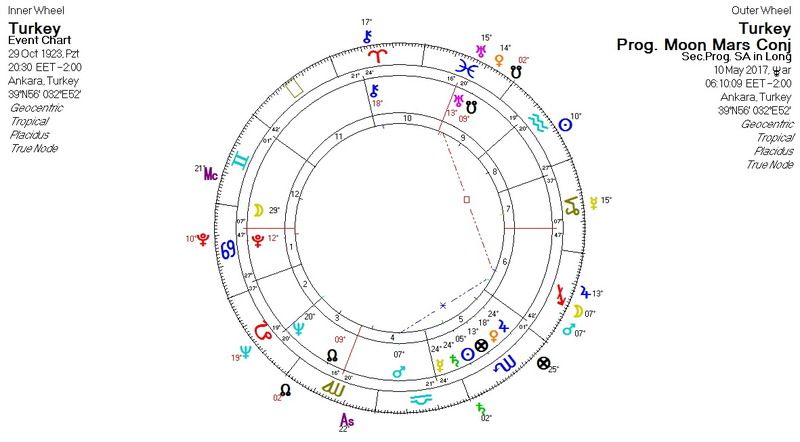 Under these circumstances, it is hard to think that this challenging period will end soon. However, we will be more influential in military field because the Moon in Sagittarius will be applying to conjunction with the benefic Jupiter in the same sign and which also rules that sign. They will join in exact conjunction in October 2017. By this date (end of 2017), transit Saturn will be about to complete its opposition with the Moon (representing the people) in Turkey's astrology chart. Stress may peak but our ability to deal with stress will also peak. As security threat increases, our military forces may be highly in demand and we may also be supported in military issues.

Time to be Careful!
For the last one year, we have been emphasizing how critical a certain period is: The time when Mars and Saturn in the 9th house and in Sagittarius will make a conjunction with Antares. These two planets, Mars and Saturn, considered malefic in traditional astrology, make a conjunction in successive signs in every two years. They will be in conjunction on August 24 2016 in the 9th degree of Sagittarius, (with another conjunction on April 2nd 2018 in the 8th degree of Capricorn and another one on March 31st 2020 in 0° Aquarius). The nearest of those dates, August 24 2016, is an important date as this conjunction will be in projection with Antares, a fixed star which is known with its warrior, aggressive, obsessive and fanatical features.




It is clearly seen that Mars/Saturn conjunction is too close to the Ascendant degree. This shows that the conjunction will take place in our eastern horizon, meaning that the influences of this harsh conjunction will be felt more significantly within our near environment.

In Mundane Astrology, the 1st house of the chart gives us opinion on the general conditions and the psychology of the people in addition to the conditions (benevolent or malevolent) that surround the people. As Mars and Saturn, two planets that are known as "malefics", are close to the ASC (of the event) we may have to face with a difficult and stressful period of time. This chart shows us that we should be careful in our inner relationships, in our attitudes towards our environment and with regards to possible stressful conditions around us. Those are important points related with security issues and our daily life routines as this conjunction falls into the 6th house of Turkey's astrology chart (chart 7).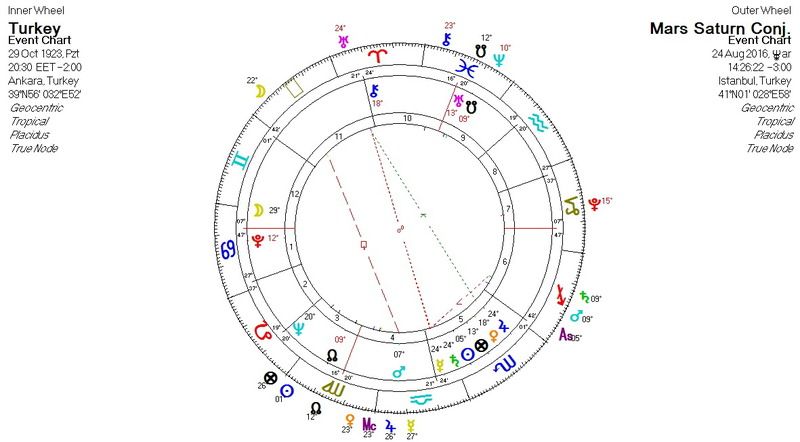 This Mars/Saturn conjunction will trigger Turkish President Tayyip Erdoğan's Moon/Mars conjunction in his natal chart (Figure 8). He was born on February 26 1956 and I found his birth time as 04:08 however I still hesitate about this rectification. So, I will be considering the planetary aspects only.




As Mars/Saturn conjunction take place so close to President's natal Moon/Mars conjunction makes me think that President Tayyip Erdoğan will be going through a rough and stressful time. As his Moon/Mars conjunction also conjuncts Antares, he may have to take some rapid and risky decisions during this period.

Eclipse Charts
To understand this period better, we should also examine the eclipse charts so let's begin with the coming Solar Annular Eclipse that will occur on September 1, 2016 in the 9th degree of Virgo and examine the chart of this eclipse together with Turkey's astrology chart (chart9).




The degree of that eclipse conjuncts with Turkey's North Node placed in the 3rd house of the Turkey's chart in the 9th degree of Virgo. This represents that we are moving towards a very critical period in terms of the future of our country as North Node is related with our targets in the future, the mission we carry and our karmic path. It is remarkable to see in the eclipse chart that we are about to experience a Nodal Return. This means we are at a fated turning point related with the steps that we should take for our future. This mission is probably related with our neighbors and our relations with them. The chart tells us that we should act in a detailed, planned, programmed and rationalist way in those issues.
In the sky of the eclipse, there is a T-square between Moon-Sun, Mars-Saturn, Neptune and Nodes representing a tough period that we will experience more stress and that we need to display adaptation skills against changing conditions. Those placements will have influences on the 3rd, 6th and 9th houses of Turkey's chart meaning that our agenda will be full occupied with the issues related with our relations with our neighbors and other countries and military and security issues.

Next, we will examine the chart of Appulse Lunar Eclipse that will occur on September 16th, 2016 at 24°Pisces together with Turkey's astrology chart (chart 10).




This is a highly critical eclipse for us as the Moon-Sun opposition will occur on the 4th and 10th houses (angular houses) of Turkey's chart. Eclipse will in T-square with the transiting Mars pointing out that there would be some stresses in international relations, trades, religion and belief systems, philosophies, education, publishing and travel issues. Mars will still be transiting in the 6th house of our chart, representing an emphasis on security issues.

Lastly, I will mention the Partial Solar Eclipse that will occur on February, 2017 projected on President Erdogan's astrology chart (Figure 11).
This eclipse will occur at 8 degrees Pisces on President Tayyip Erdoğan's birthday so it will be very close to his Sun, making it a very critical one.




The degree of this eclipse will trigger the T-square aspect pattern in mutable signs in President Tayyip Erdoğan's chart. The days around this eclipse may be very challenging and rough days in order to take important decisions and responsibilities and that should be well-managed well both for the President Erdoğan and for our country.

Peaceful Time after Rough Days
The charts we examined so far show that we will have a rough and stressful one and a half year period. In fact, we are accustomed to such periods. Our natal chart has the potential to overcome stress and to gain strength once again.

A relaxing period follows each rough one. I believe Turkey will have a relaxing period after 2018. When we project our progressed chart onto our radix chart, we see progressed Venus will reach MC in 2019. Transit Neptune will also be close to the MC and for a certain period it will move forward in conjunction with progressed Venus. (chart 12)